New Restore Backup option in the Hosting Control Panel #EasierHosting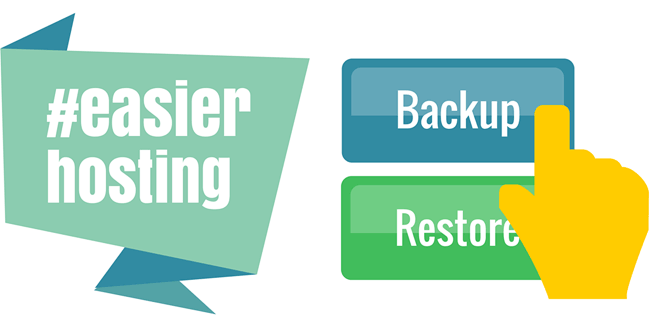 You can now restore backups yourself without having to ask support staff for assistance.
This is another of our new making-life-easier tools now available in your control panel.
We are making backups of your files and databases several times per day. With other web hosts, you would need to ask the customer support to restore a backup in case you would need it. We want to make hosting easy for you, so here's what we have done:
You can now browse the backups that we have made and with only one click restore any backup of your choice. This can be done both via the File Manager and the Domain Manager.
In the File Manager, either
right-click on the folder you want to restore, and choose Restore from the context menu,

or click the yellow folder icon just to the right of the Home icon until you get to the root level where the backup folder is located. Choose any backup and restore it.
In the Domain Manager, Hosted Domains tab
Right-click on a domain or subdomain and select Restore from the context menu
or Click on the Restore icon in the Actions column next to a selected file or folder.
More Easy-Hosting News: You can now set up automated remote backups to Google Drive or Dropbox in addition to the backups that we make for you. Just go to Files > Remote Backups and follow the instructions.
View Contol Panel Demo
Go to Hosting Plans