Ad management
This category relates to Ad Management in terms of online advertisement and email newsletter marketing applications.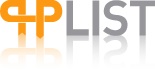 phpList is a very popular mailing list manager that helps you create and effectively distribute email newsletters to thousands of recipients. This great software allows you to set up web based newsletter subsriptions and let users subscribe to the mailing lists of their choice.

OpenX, earlier called Openads, is the world's most popular ad management software, used by over 30.000 websites all over the world. OpenX (Openads) has one focus - to help you earn more money on your website.