phpBB3 forum automatic install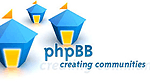 phpBB (PHP Bulletin Board) is the most widely used Open Source forum solution on the web. phpBB is suitable for both small and large forum sites and helps you to easily build a forum and manage your forum users via an easy to use administration section, extensive permission control, and private messaging function. It includes search functions, a flexible template solution and multi-language features. phpBB is installed on millions of websites worldwide and has proven to be an effective tool when you want to build a popular and effective Internet community.
phpBB forum resources:
Choose a phpBB3 Hosting Package Now
Startup includes all you need for one website. You can upgrade later.
Startup

Unlimited storage
Unlimited bandwidth
1 domain
Daily Data Backup
24/7/365 support
phpBB3 Installed

Multi

Unlimited storage
Unlimited bandwidth
5 domains
Daily Data Backup
24/7/365 support
phpBB3 Installed

Unlimited

Unlimited storage
Unlimited bandwidth
Unlimited domains
Daily Data Backup
24/7/365 support
phpBB3 Installed

Supreme

Unlimited storage
Unlimited bandwidth
Unlimited domains
Daily Data Backup
24/7/365 support
phpBB3/strong> Installed