Managed VPS Hosting – for best website performance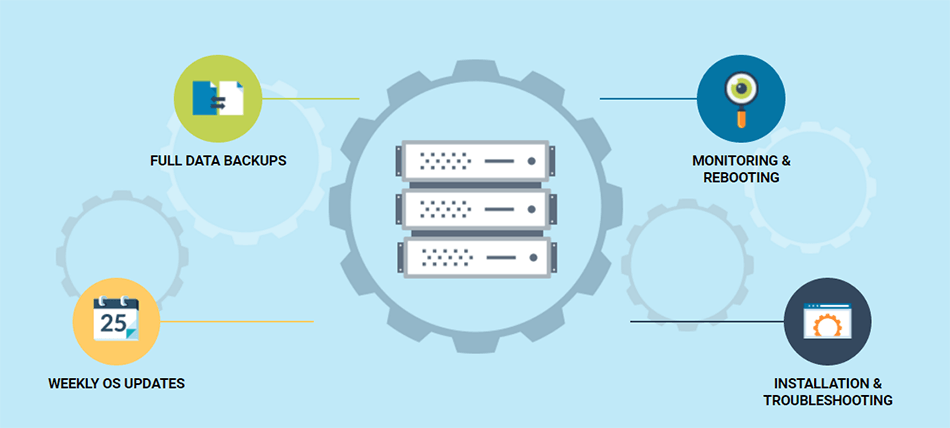 If you are new to VPS hosting, you probably want to add Managed Services to your account. Give your time to building your business while we make sure your VPS delivers top performance at all times.
If you choose to add Managed Services together with your VPS, we will take care of several important tasks for you, such as service monitoring and rebooting operations, OS updates, backups and additional script installations. Services for securing and hardening your server are also offered.
You can add Managed Services to our entry-level VPS plans OVZ01 to OVZ03 for only $16.00/month. Simply add the option when you order any of these VPS hosting plans.
Managed Services are included by default in our high-end hosting plans OVZ04 to OVZ10.
Why do I need Managed Services?
We want to give you the option to devote all your time and creativity to focus on your business and build great content on your website, instead of concerning about technicalities such as server management.
With Managed Services, you can safely rely on our skillful support staff and experienced system administrators to care for server management. This will save you lots of time that you can spend on finding new clients or customer care, time that you would otherwise have had to spend on setting up services yourself and making sure they run correctly.You won't have to set up a monitoring system yourself and figure out a way to watch over it 24/7 to make sure your website is always up and running. And in case of a problem, our support staff and system administrators will be able to take care of it much faster, since this is what they are trained and paid to do.
What exactly will be managed?
This is what the Managed Services option include:
VPS backup. Without Managed Services, you are responsible for utilising backups yourself.
Weekly OS update. We will make sure your VPS will always be running the latest and most secure software available.
Monitoring & Rebooting. We will be looking after your services and if one of them goes down, we will reboot the server for you. This way, you can sleep well, knowing that your server is being monitored 24/7.
Installation & Troubleshooting. We will install custom software or help you troubleshoot a script that gives you problems, any task which require no more than 30 minutes of our administrators' time.
Can't I go with an unmanaged VPS solution?
Sure. If you know how to manage your own server and like to set up your own 3rd party backup solutions, you will do fine with our default unmanaged VPS plans OVZ01, OVZ01, or OVZ03, where all VPS management will be up to you. If you have experience in this area, or if you employ other people to deal with VPS management operations, then you won't need a managed service. In all other cases, we recommend that you go for a managed VPS plan. Those are OVZ04 to OVZ10.
Choose Your VPS hosting plan and get started within the hour:
OVZ 1
Platform: Linux
CPU Cores: 1
RAM: 1 GB
Space: 20 GB
Bandwidth: 1 TB
Management: Non-managed

$

6.00

/mo
OVZ 2
Platform: Linux
CPU Cores: 1
RAM: 2 GB
Space: 40 GB
Bandwidth: 1 TB
Management: Non-managed

$

13.00

/mo
OVZ 4
Platform: Linux
CPU Cores: 2
RAM: 4 GB
Space: 80 GB
Bandwidth: 3 TB
Management: Non-managed

$

21.00

/mo
OVZ 8
Platform: Linux
CPU Cores: 4
RAM: 8 GB
Space: 160 GB
Bandwidth: 5 TB
Management: Managed

$

44.00

/mo
OVZ 16
Platform: Linux
CPU Cores: 8
RAM: 16 GB
Space: 320 GB
Bandwidth: 6 TB
Management: Managed

$

82.00

/mo
Free Website Migration from Your Old Host
We will move your website free of charge from your old web host. in most cases, we will be able to move your website without any downtime or interruptions in e-mail services.
A User-Friendly Web Hosting Control Panel
Our hosting Control Panel is very quick, responsive and very user-friendly. You will have full authority over your web site(s) and domain(s). View Demo
A 24/7 Hero Support Service
Our technical support personnel is here to reply to all your inquiries 24/7, 365 days per year. You can reach us by chat, ticket or e-mail.
A Free Dedicated IP included
All our OpenVZ-based virtual hosting server packages come with 1 cost-free dedicated IP. If the private virtual web server is ordered with a Control Panel, one extra IP address is added free of charge.
Five Data Centers
With us, you can select where to house your VPS server. We have five data centers, one in the USA, three in Europe (UK, Finland, and Bulgaria), and one in Australia. All virtual server specs and prices will stay the same irrespective of what data center facility you pick. All of our data centers offer best-in-class hardware components, excellent network connectivity, power redundancy and top security.
Our Guarantees
All VPS web servers are configured by us free of charge - there are no server setup fees. You don't have to wait either - your virtual private web hosting server will be completely operational in no more than one hour after the purchase. Regardless of which datacenter you choose, we offer a 99.9 percent network uptime guarantee.
Operative Systems and Control Panels
The SolusVM Panel is a private virtual web server administration interface, which comes with all our VPS hosting packages. You can choose from the three most popular Operating Systems for hosting environments: Debian, CentOS and Ubuntu. These are powering the majority of all the website hosting servers on the web. You also get our user-friendly Hepsia hosting Control Panel.
Free Extras
We include a domain reseller account with all our VPS accounts. If you choose one of our top-range VPS:es, we also include billing software so you can start your own hosting reseller business.