Speed up Joomla performance and decrease server CPU load
Did you know that you can speed up your Joomla website? It is not that difficult to improve Joomla performance and decrease the server CPU load. Joomla CMS actually has the tools built in from the beginning.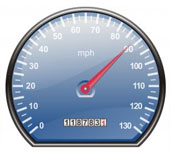 Any high-trafficked website that renders dynamic content from a database, will use a lot more server resources than a static website. We are not talking about server disk space, but about the CPU-load. In our web hosting control panel, you can see how much CPU-load your Joomla website is causing. Just go to Statistics > CPU Stats.
Newer Joomla versions generally uses less CPU-resources than the older Joomla versions does, but when your website gets a lot of traffic, you might need to take measures to improve the performance and decrease the server load. The easy way to do this is to activate caching of the pages rendered by Joomla. Caching content means that PHP does not need to render the content every time a visitor visits a web page on your site. The cache component saves the page rendered by PHP so that the next visitor sees almost like a static HTML page. The administrator decides how long time a cached page will be saved. If you set it to 1 hour, in the theory, all pages on your website will always be "one hour old". This does not only decrease the server CPU load, but it also speeds up the website performance, since the CPU does not have to produce the page every time it is called for by visitors.
There are several third party cache components for Joomla that can dramatically increase your Joomla website´s performance. You find them here: Cache Components for Joomla
Furthermore, you can increase your Joomla performance by using a web host with Varnish cache, such as with us. Welcome to sign up with a 30-day no-questions-asked Money-Back-Guarantee »
Find more articles for faster hosting under the tag #fasterhosting